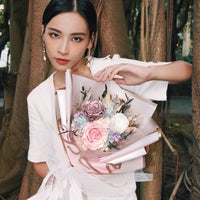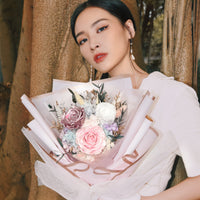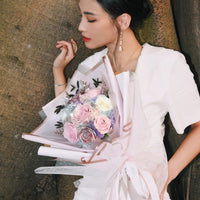 Preserved Flower Bouquet - Metallic Pink & Pale Pink Roses
Dreamy sprays of white, metallic pink and pale pink Roses and baby blue Hydrangea, decorated with white Baby's breath and Eucalyptus.
With the pale pink wrapper highlighted by a brown edge and the silver dotted paper mesh, the floral arrangement has been further uplifted by added sophistication.
Let Léselle's alluring arrangement sweep you away into a magnificent wonderland with every beautiful bloom.
> What is the difference between preserved flowers and other flowers?

Imported preserved flowers
Longevity: 3-5 years without fading

Product size: 3 main flowers, height 45cm-50cm (S)
       5-6 main flowers, height 50cm-55cm (M)
       8-9 main flowers, height 55cm-60cm (L)
*Product size depends on the number of main flowers
Product weight: 0.24 kg(S)
         0.27 kg(M)
         0.30 kg(L)
Preserved flowers: Main Flowers (e.g. Roses) and other matching flowers (e.g.Hydrangea)

> More about the maintenance precautions of preserved flower products
Preserved Flower Care Tips:
1. Do not water preserved flowers or touch them frequently
2. Avoid exposing preserved flowers to sunlight or strong light
3. Prevent preserved flowers from being blown directly by air-conditioner or being refrigerated
4. If you wish to remove the dust surrounding the flower, it's suggested that hair dryer should be used in a low speed to blow away the dust
5. Suggested storage environment: humidity 40%-65% ; temperature 8℃-28℃

We provide Store Pickup, Local Delivery and Shipping services.
Store Pickup: Press here to view the address(es).
Local Delivery: You can choose "Standard Delivery", "Specific Time Delivery" or "Instant Delivery".
Shipping: For overseas shipping, please refer to "Shipping".